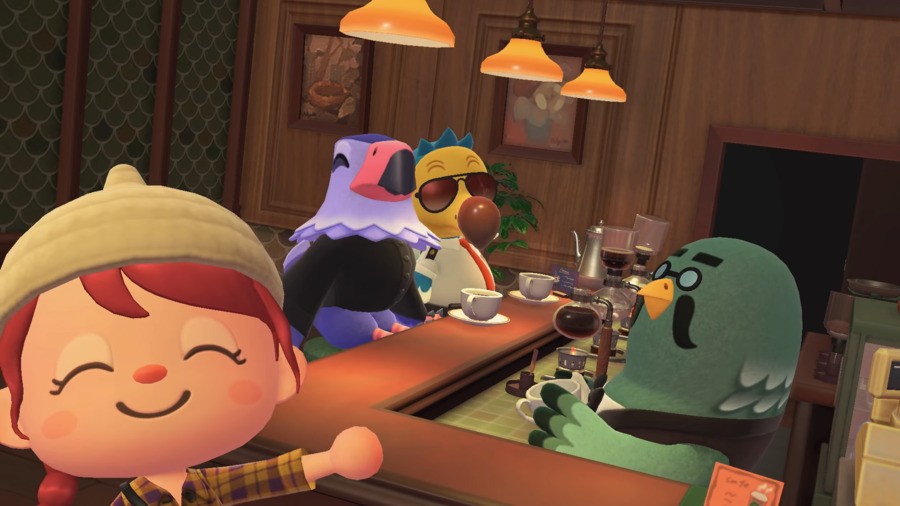 Last Friday Nintendo released version 2.0.1 of Animal Crossing: New Horizons, and now this week version 2.0.2 is released.
This update contains bug fixes that apply to both the main game and the new DLC. Happy home paradise. Here are the full patch notes, courtesy of Nintendo's official support site:
Ver. 2.0.2 (Released November 18, 2021)
Fixed issues
The following issues have been resolved.
During one of Kapp'n's boat tours, Brewster could overlap with the player and prevent the player from moving.
Kapp'n's song could stop playing and prevent the game from continuing.
Selecting the "How does this work?" Option when starting a group stretching session during a multiplayer session could prevent the game from progressing.
The poster for Orville would be available through Nook Shopping after Wilbur was invited to Photopia.
The poster for Wilbur would be available through Nook Shopping after Orville was invited to Photopia.
Placing certain pieces of furniture on the pier could prevent the player from speaking to Kapp'n.
The pipe item's warp feature would stop working after the player discussed buying furniture from a resident in the resident's house.
The music for group stretching sometimes did not play when an audio device was playing near the square.
The Nook Miles + activity "Go to bed for a coffee break" can appear several times on the same day.
Fixed issues related to DLC
The following issues related to the paid DLC Animal Crossing: New Horizons – Happy Home Paradise have been fixed.
The software would close when the player tried to lead Leif to school and the placement of the furniture in the school met certain requirements.
Using amiibo multiple times to change the members used in an institution may cause the software to close.
The software could shut down if the player repeatedly used amiibo in a completed vacation home to add or remove guests.
The Y button can stop removing guests if the player has repeatedly used amiibo to add a guest and then removed the guest with the Y button.
While at work, a design portfolio photo might still appear in the top left of the screen after speaking to a client on North Beach.
Bells were issued in addition to poki when the player ordered a gift for another resident through Wardell.
The mileage refund notification card for the Pro Decorating License can be sent multiple times.
The roommates would not appear in a subsequent scene if their common holiday home situation in the yard of their holiday home was ended.
The Happy Home Designer DLC can be purchased separately for $ 24.99 / € 24.99 / £ 22.49 and is also available as part of Switch Online's expansion pack. You can read more about the last major update for the game in our previous post.
Have you downloaded this update yet? Leave a comment below.
.