Animal Crossing: New Horizons has received its major update to version 2.0 which includes a range of freebies and also the paid DLC option from. contains Happy home paradise. A number of Team NL have enjoyed its charm, and one topic that kept coming up was the new content's ability to bring back decayed players. It has also brought back the daily game for some that would have ended some time ago for a number of islanders.
So, two of our teammates who were buried in the game last week – Tom Whitehead and Kate Gray – met for a virtual cup at The Roost to talk about the update, DLC and why time travel is a dangerous game.
We'll start with confessions about how much we were "forsaken" from the game's pre-update.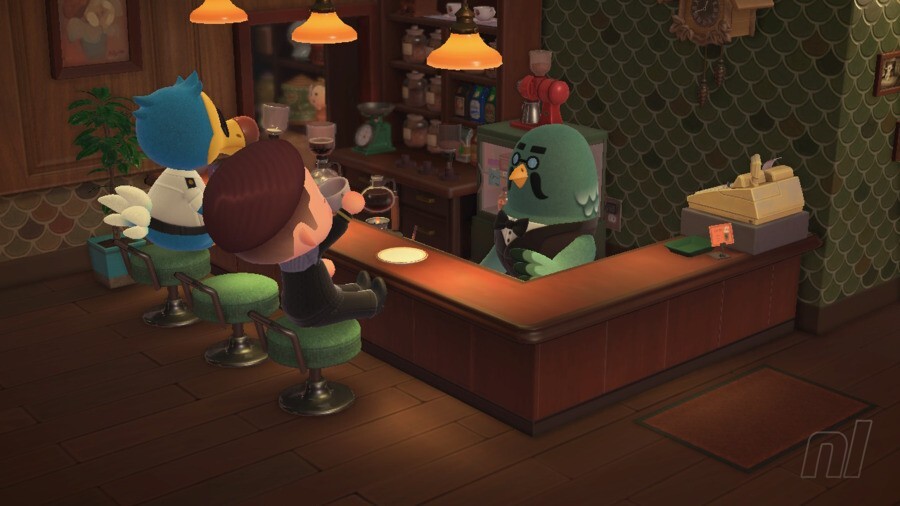 Kate Gray: It's been at least a year since I've played regularly before the update. I think I tried jumping in to grab pumpkins last fall, but even that didn't last long. However, for the first two months I played VORACIOUSLY!
Tom Whitehead: In my case I never fell into disrepair, but the way I played has changed a lot. During various lockdowns and isolations, it became a small hangout with my mother as a substitute for actual visits; It was a social thing where we sold beets, exchanged unused recipes, etc. But for the past year I played maybe 10 minutes a day which was checking beet prices and running around checking on my villagers. I still enjoyed chatting with my quirky animal friends, but in some ways it wasn't a "game" anymore.
New mechanics like cooking and farming have reinvigorated the game for me.
KG: So you absolutely have to roll around in it. From my time in the beet market, I had about 15 million bells in my account, and I'm down to about 10 million. This update is expensive.
TW: I was too weak in the beet market, I should have done more!
KG: I walked heavy. I've been to about three different ACNH discords, which meant there was always something to sell … even when the profit was tiny. Now I fear the thought of going back to those Discords! I haven't reported there for a year. I feel a bit like the person who only supports a football team when it's okay.
TW: Well, that might be Nintendo's fault. There was a possibility of more meaningful regular updates, but after about 6-8 months they dried up. What do you think of the update strategy, especially now that version 2.0 has been holding back so much?
KG: I have mixed feelings, to be honest – I don't necessarily think we should feel entitled to a live service game that is updated with massive content, but at the same time, this is the first thing actually brought to me back to the game. I wasn't that excited about all of the limited-time, seasonal things because there was only a thing or two here and there. New mechanics, like cooking and farming, have revived the game for me (and the DLC of course), but it's weird that it took so long because I think Nintendo got a lot of bad press from the angry fans. At least I'm happy – but it's just strange that it happened so late.
TW: Yes, I have a feeling that a chance for amazing momentum may have been lost. But on the plus side, it now feels like a renewed game. It's not a thing I do out of habit anymore and luckily the new stuff is so damn charming. Starting with the free content, I find that the whole thing becomes so much rounder and more varied. Every day can be a little different now. What do you think of the freebies in particular?
KG: I find it absolutely amazing how much free content there is. I almost wonder if it really is better to dispose of it all at once, so there is a lot to do to keep people busy instead of putting it together over months and everyone constantly starving for more than junk. There was already so much of the game that I hadn't seen before and now all the depth is really, really exciting – I think the worst thing that can happen in a game like this is realizing that you end up of the game has arrived, so to speak.
TW: Anyway, I would run out of things. I like your point about the benefit of doing so much in one almighty update. Outside of the #content approach of time travel and all of that, I get along just fine with having different things that I have have not still have to. I have a plan for a farm, but I haven't drawn it up yet, I've only done a couple of Kappn tours. There is a real choice every day, now it feels like a brilliant introduction to the series.
Outside of the #content approach of time travel and all of that, I get along just fine with having different things that I have have not still have to. I have a plan for a farm, but I haven't drawn it up yet, I've only done a couple of Kappn tours.
KG: I think I also learned a lot from playing in the first few months, so … irresponsible! I wanted to be the one who had the new stuff so I could invite friends and join the excitement. But it burned me out very, very hard, and that's not what I want from a game like this. This time around, not only do I take it slower – one Happy Home Paradise design a day, and sometimes not even that – but I also don't bother with #ACNH social media that much. It can get very stressful or even competitive to see other people do so much when you're in the running to keep up. I noticed this time too! Some people somehow already have ALL new furniture. I've never been through time travel and I don't plan to – but this time, I don't plan to ask other friends to give me all the furniture I'm missing. I can wait for the Froggy Chair.
TW: Yes, each for himself, but this is not a speed running game! I prefer a slow and steady approach, that's the mood I want from it. You mentioned the DLC and that's one thing I play easy faster than I normally would so I can check it out a little. I like it a lot though, so far it seems to blend in perfectly with the main game and it's a nice setting Happy home designer on 3DS. It's too cute too. It's just playing that makes me smile.
KG: I'll admit, as one of the ten players who played Happy Home Designer, I'm glad it's getting its moment. It never felt like a full game, but more like a proof of concept – in fact, I don't doubt it was a testing ground for … something. I like that they worked the story out a bit, but it's funny because it's almost the exact same game! I look at people's reactions and think, "This isn't new," but I think that's Animal Crossing for people who didn't play the old games. To be clear, I think that's nice.
TW: Once I learned how I took a villager there for a design (just give them chocolate) that was extra fun. However, I am not sure how possible it is to "fail" at this or even get a lukewarm response. So far, all of my clients have been delighted with my endeavors, and I am self conscious enough to know that my design skills are not all of that!
KG: It's interesting from a game developer's perspective – subjectivity isn't possible in a game. So when you draw (like Chicory: A Colorful Tale or Art Academy) or write (like Kind Words) in a game, you can't really tell if it's "good" because it takes humanity and sensitivity. All you can really teach the game to determine if it meets the requirements, which is why you'll get some furniture to start with. And yes, that means you can build an ugly house on purpose (I had some houses in Happy Home Designer that were horrible, horrible things) and still "win", but I think it really gives you the impetus to get a good job close only because. I think that's really cool!
TW: Absolutely, I always try to build a nice house just because the game motivates me to do it. This has always been one of AC's strengths, the character designs and scripts are always top notch.
Overall, I think Animal Crossing 2.0 is really awesome now, and I think it will be a while before I'm "done" with it. Hell, I'll probably be going to The Roost for morning coffee by the end of time.
KG: I missed Brewster. And Kapp'n. More than I thought! I'm justifiably delighted with how much it has pulled me back in and how much it feels like the first month again. Okay, Nintendo.
TW: So how long do you forecast AC will be a daily / regular game for you now? Like I said, it never stopped in my case, but I hadn't played it anymore.
KG: It's always weird with these things when it's your job – and it wasn't my job when it came out either! But I enjoy taking screenshots a lot, and that's a good sign of how much I enjoy a game because screenshots are torture. I'd like to keep playing at least until the end of the year because actually … Animal Crossing is a game much better cozy game than a spring / summer game. Also, I now have new friends and that means new gift options!
TW: Beautiful! I think even in the unlikely event that I "see it all," the additional choices for the day and your entertainment will keep me going for a while. I can't think of anything 'missing' now other than an option to work at The Roost! But I will live without it. Is there anything that's missing from this game, or is it pretty much all of the AC?
KG: Oddly enough, what I'm most disappointed with is the fact that catching crickets doesn't give me a recipe for crickets. I want to eat a barbecue. But on a related topic, I don't know how many recipes there will be, and pre-emptively I worry that there aren't that many – and without new free updates, it was. As for major missing items … I never have really cared about characters like Gracie and Booker so I'm pretty happy with what we have. Maybe some New new characters would have been nice, but I am okay with returning characters too! And you?
TW: I can't think of anything. I think one of your articles mentioned that KK was doing gigs at The Roost, that would have been nice. A hybrid from old disco days with its new acoustic act. But ultimately I think the game is in excellent shape now. Do you have one final thought about the updates?
KG: I think above all I have a message for the readers and players: take it slow. You don't have to unlock everything as quickly as other people. Play it until you have fun, then name it an evening. So it lasts longer!
---
Let us know what you think of Animal Crossing: New Horizons Version 2.0 and what your new favorite feature is?
Continue reading:
.