We dive into the floors of the dungeon and discuss RPG difficulties, Ito's design theory (and what it's like with sports), and how Ito ended up back in the director's chair after 15 years.
At the end of September, Square Enix unveiled Dungeon Encounters, a new role-playing game from Final Fantasy developer Hiroyuki Ito, best known for his work on developing the Active Time Battle (ATB) system typical of the series and for directing Final Fantasy VI, IX and XII is known. Now, for the first time in 15 years, Ito is directing Dungeon Encounters, which came out on Switch in October. We had the chance to ask Ito and the game's producer, Hiroaki Kato, a few questions about the development and thought process that went into developing Dungeon Encounters.
---
Nintendo World Report (NWR): The two of you worked together on Final Fantasy XII: The Zodiac Age prior to Dungeon Encounters. How did the Zodiac Age battle system and design inspire your creations in Dungeon Encounters?
Hiroyuki Ito: The basic design for battles is something that allows a player to do the following repeatedly: "Information (information is displayed on the screen)" → Prediction ("If I do that, I may be able to delete it") → Execution (the Player tests the strategy he has come up with) → Results (if everything goes well, everything will be fine, and if not, he can reconsider the strategy). "Both titles were created on this basis, so that they have no causal relationship, where one inspired the other.
Hiroaki Kato: The gambit system in FINAL FANTASY XII THE ZODIAC AGE included the fun of thinking about how efficiently you can build gambits to fight as advantageously as possible in a given combat situation. It wasn't so much that we took THE ZODIAC AGE for inspiration; Rather, we wanted to capture the fun of thinking, which is a core element of games, through a different approach (compared to THE ZODIAC AGE) in DUNGEON ENCOUNTERS. That desire led us to develop this game.
NWR:Tabletop games seem to be a huge inspiration for Dungeon Encounters. Are there certain tabletop games that inspired it?
Ito: I have no knowledge of tabletop games so there was no influence from them. However, if following the history of RPGs ultimately leads to tabletop games, then that would mean a universal style of play here too.
Kato: As Ito-san noted, it wasn't inspired by tabletop games. However, during the game tests I sometimes had the feeling that the "thinking is fun" gameplay style that is so appealing to DUNGEON ENCOUNTERS bears similarities to the universal fun that lies at the core of tabletop games ancestors of role-playing games.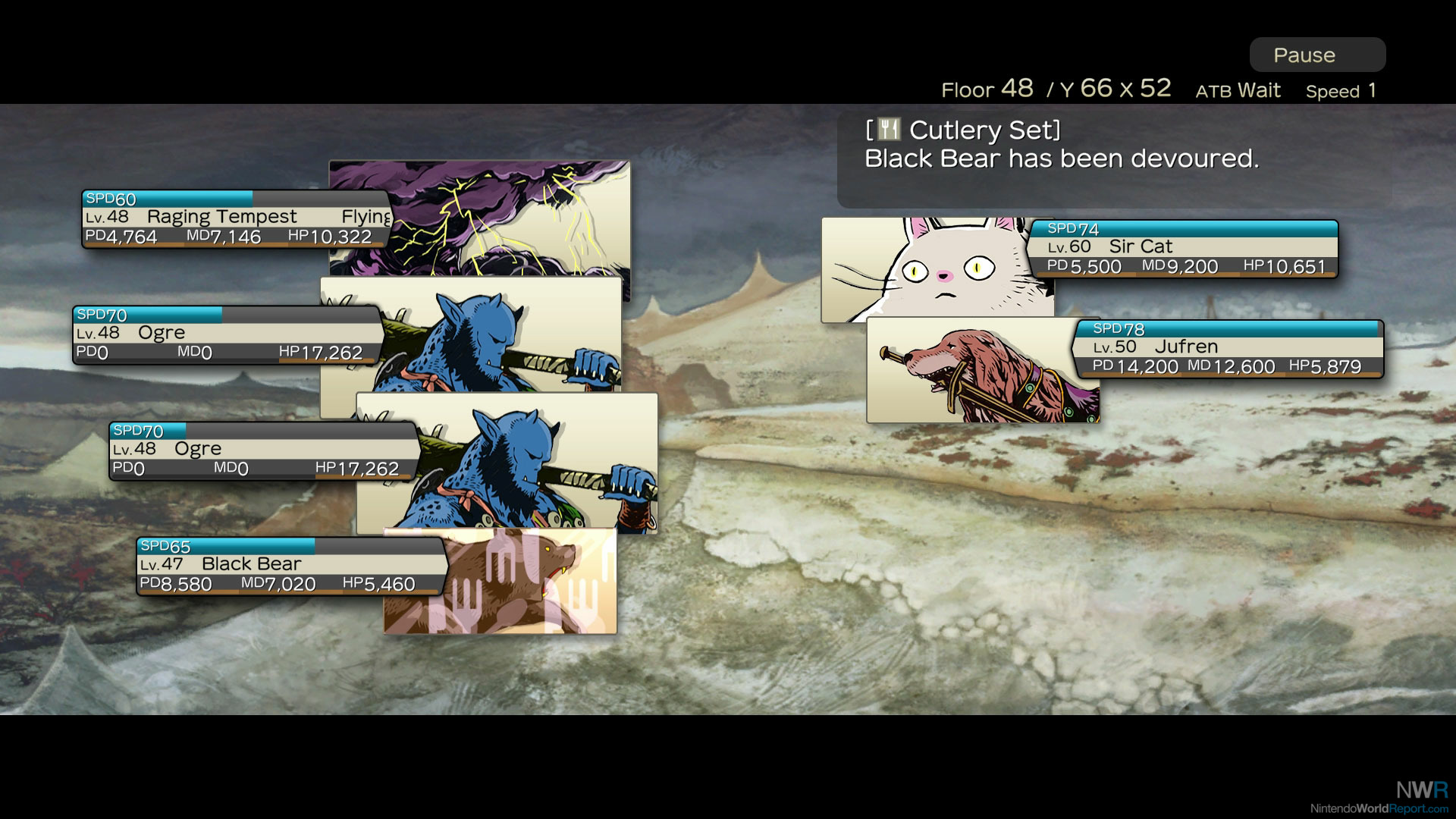 NWR: You have often compared your combat systems to sports (like ATB, which was inspired by Formula 1). Was there a sporting influence on the design of Dungeon Encounters and what was it?
Ito: The already mentioned procedure "Information → Prediction → Execution → Results" applies to all sports. Among other things, I use the NFL as a reference when developing plans.
As a side note, ATB wasn't really inspired by F1. Rather, it would have been difficult to suddenly throw players who were used to turn-based combat into real-time combat. To make it more accessible to them, I drew clues from the F1 semi-automatic transmission system at the time. Being between turn-based and real-time would make it easier to play, and I thought it might allow players to experience something that is real-time style.
NWR: With so much experience with Final Fantasy, why is Dungeon Encounters part of its own world and not part of Final Fantasy?
Ito: I think since we were creating this game while prioritizing the game system, the resulting world is ultimately based on it.
Kato: The FINAL FANTASY series has an element in which gameplay is advanced to enjoy the story or the world and its lore. DUNGEON ENCOUNTERS has no set history to be followed; How a player proceeds to survive is entirely up to them, and the game is designed so that players can enjoy the game system for themselves. It takes a different approach than the FINAL FANTASY series and accordingly constructs a new world.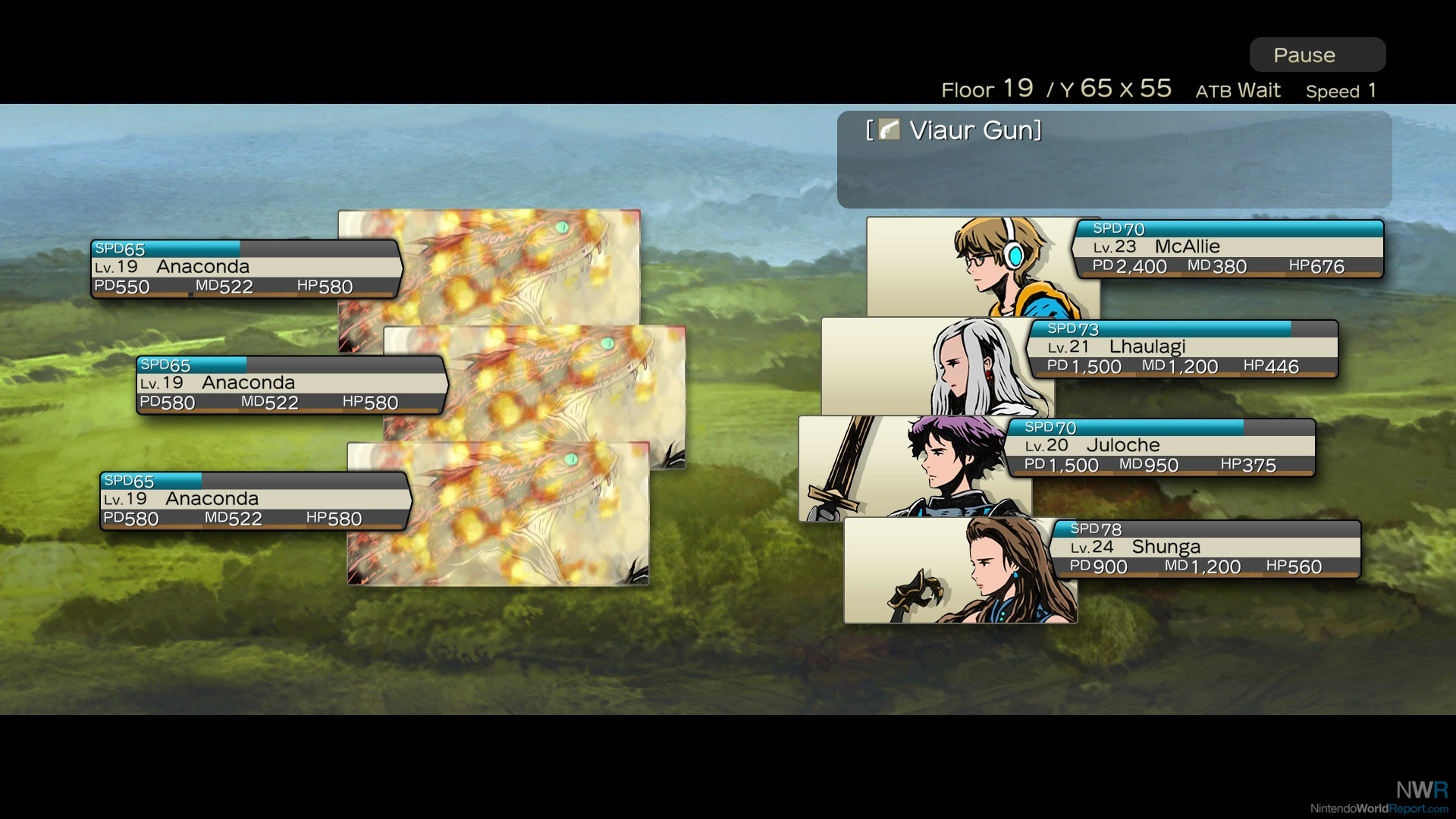 NWR: Dungeon Encounters is your first director in 15 years. Why take this role again for Dungeon Encounters and will there be more directing roles in the future?
Ito: The producer kindly picked it up and by sheer luck we were allowed to create this game. I had the idea for this type of game a long time ago, so I brought it up. There are many other ideas I would like to realize, but I'm an employee of the company and I'm approaching retirement age.
Kato: When Hiroyuki Ito showed me a proposal for an RPG a few years ago that has an overall simple design, from the story to the effects, where the fun lies in the system mechanics itself, my feedback was: "If the system is fun, then would the game sell better if we made it lavish? "(laughs).
From then on, we spent some time discussing, and our minds went to the idea that "this looks like there is a gameplay experience that has never really existed, where the thought process is fun" . It could be a game where the simplicity of design makes it easier to identify the situation you are in, and players can use information in the game as clues as they try to figure out how to progress through trial and error.
So we completed DUNGEON ENCOUNTERS under the guidance of Ito-san. The basis for a game system in which thinking is fun has been completed in this title. Therefore, we are also considering providing more game experiences that concretize the story and graphics, implement new ideas and at the same time preserve the existing attractiveness.
NWR: The difficulty level in Dungeon Encounters is high. Ever thought of adding difficulty options? Why or why not?
Ito: Until now, I have never thought about difficulty options. If we managed to create this option, I think it would be good to release it as a title of its own, similar to FINAL FANTASY IV.
Kato: After the SNES version of FINAL FANTASY IV was released, FINAL FANTASY IV EASY TYPE was released with a lower level of difficulty. Ito-san refers to this in his comment.
Ito: I think players might want to play a game in full without missing out on anything.
Kato: The first time players play this game they may find themselves confused by the traps set and the encounters with overwhelmingly powerful monsters, but the game is designed so that players can gain their own experience, points and skills to survive, while they keep playing. In particular, the difficulty of traversing a dungeon also changes greatly with the use of skills, so players will have to make various discoveries as they continue to think about how to survive and how to be as efficient as possible. We wanted players to enjoy this type of gaming experience, so we didn't add any options for choosing difficulty levels.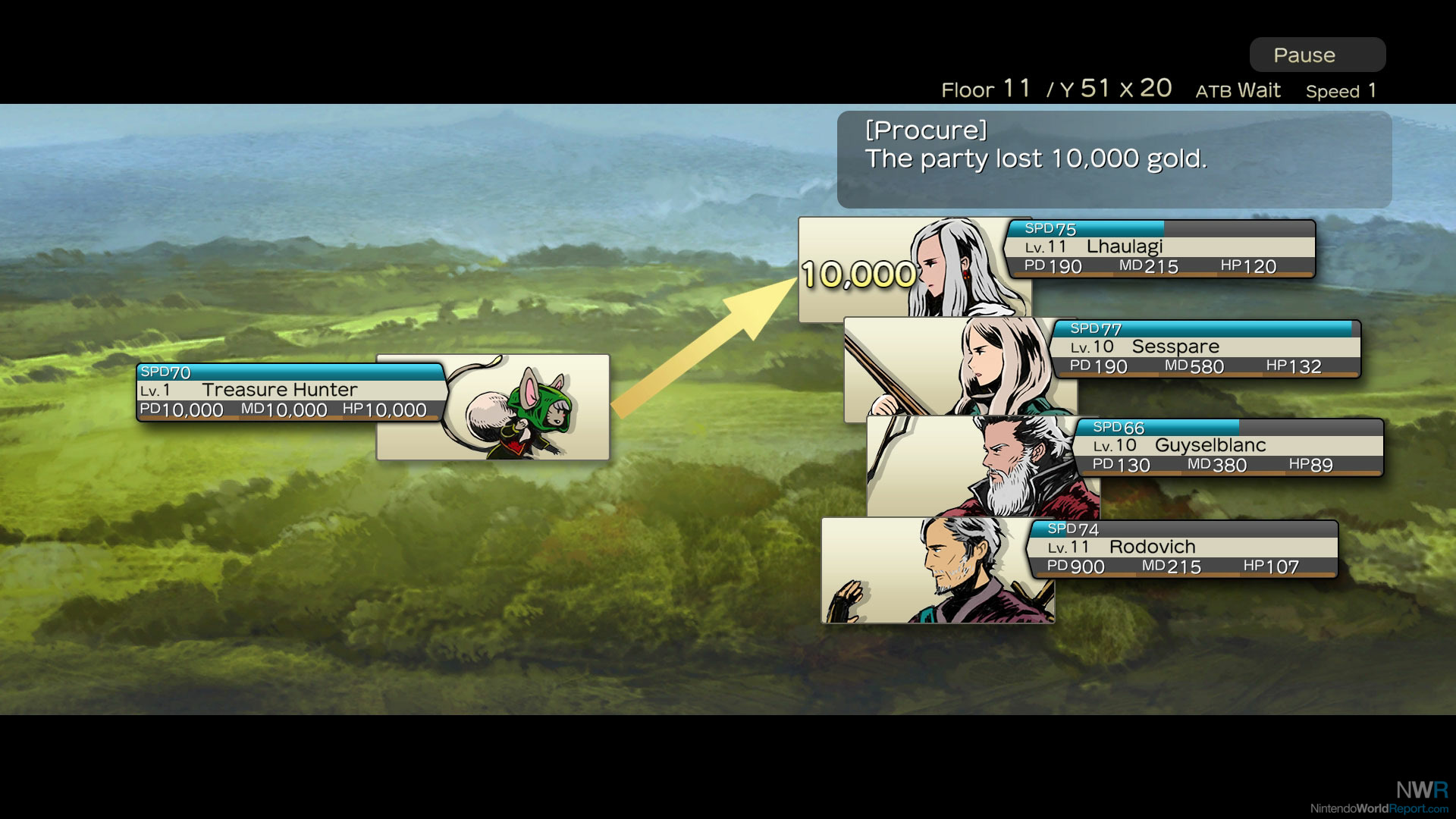 NWR: It is possible for so much gold to be stolen from you that you get into debt. What was the thought behind this mechanic?
Ito: In this game, some skills can prevent a predicament before it occurs. In order to increase the value of these skills, we need to create a situation that is appropriate for them. Based on this, we determine the amount for the enemy attack "Transfer (Debt)". In addition, this game is set up in such a way that no matter how difficult a situation may be, it can still be broken through and clarified. When a player goes into debt, it's perfectly fine to pay it back, and it's perfectly fine to go deeper without caring about it; I think it's fine as long as the story that unfolds is the player's own.