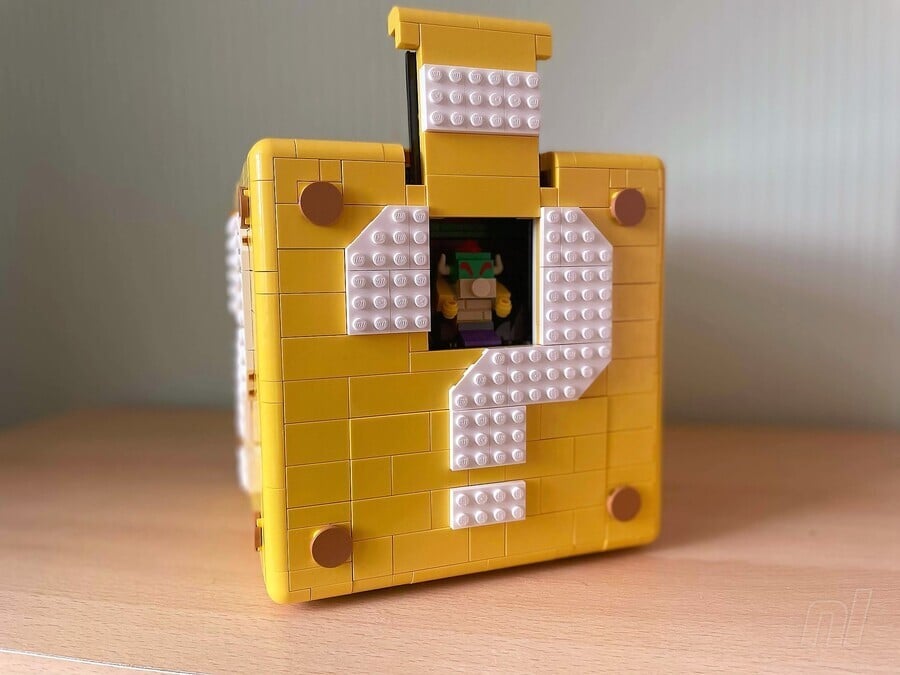 At first glance, the Lego Super Mario 64 question mark block looks pretty uneventful; simple, in fact, especially after the interactive gamification that was featured in the previous Lego Super Mario sets. It's just a solid Lego block, isn't it?
If that's what you think … well, you obviously haven't kept an eye on this set since it was announced. Much like the iconic platformer, it's packed with secrets, rough edges, and so many Easter eggs that they're practically bursting at the seams. As if you were Mario himself jumping up to hit the block, secrets await inside and every fan will want to get their hands on them.
If you've seen the set on social media – and let's face it, you most likely have – you know it's a love letter to the classic Nintendo 64 title. With a simple movement, the lid of the block opens and presents you with a collection of levels from the game. From Bob-omb Battlefield to Lethal Lava Land, your childhood self will resonate with at least one of the worlds, even if it's in the form of a tiny LEGO brick.
The joy doesn't just come from the bottom line. LEGO worked incredibly hard to make sure the building experience takes you on a journey through these levels, much like the game, with a thick how-to booklet. Start with a story of the set and the game, and it won't be long before you keep building. After putting together many Lego sets over the years, we can say with confidence that this is one of the funniest builds the company has delivered to date.
After putting together many Lego sets over the years, we can say with confidence that this is one of the funniest builds the company has delivered to date.
It all starts with the framework of the block, which leads you into a false sense of security while you meticulously ensure that you follow the advanced instructions. A couple of blocks here and a couple of blocks there and before you know it you have a solid foundation. It's not the most exciting start, but the Super Mario 64 Question Mark set saves the best to last. In every way, the framework is the game's "start menu".
Once that's done and you have something solid to work with, things get interesting. Slowly but surely you start building each of the four areas that the game represents: Mushroom Kingdom, Lethal Lava Land, Bob-omb Battlefield and Cool, Cool Mountain. Each zone has its own pocket for its construction, and the slow piecing together of intricate designs has given us some of the most nostalgic moments we've ever had while piecing plastic bricks – a pastime that, despite its description, has a history of evocation considerably feels to us. While you can easily pick up some of the magic of the set from the pictures on this page, it's only when you slowly put the thing together that something just "clicks". Ey.
When building Princess Peach's Castle – complete with a mini-Yoshi hiding on the roof and the famous paintings Mario himself jumps into – it becomes clear that much thought has gone into making the builders feel like they are themselves in game and on an adventure. Anyone who owns the Lego Mario from the other licensed sets can even discover ten hidden stars in the digital version, each of which is indicated in the instruction manual.
Anyone who owns the Lego Mario from the other licensed sets can even discover ten hidden stars with the digital version
It would be a shame to ruin all of the surprises in the set (and social media is littered with spoilers of the build), but it's great to see so many hidden details that even the Lego Group itself didn't pay attention to. The meeting 'Aha!' The moment you discover an area of ​​a level that you fondly remember is one of the best elements of the set and one that we don't want to take away from someone who is eagerly awaiting the build.
In contrast to many other sets – like the insanely expensive Millennium Falcon or the much cheaper one Strange things-inspired set – this is also a very "solid" construction; it doesn't feel weak and looks like a high quality product through and through. Prior to its release, there were some concerns about its durability, especially with its regular opening and closing, but in our experience it holds up well. You could probably even juggle if you wanted, although we don't recommend doing this just in case. What we to do suggest leaves it in its box shape when guests come by before wowing them with the results when you reveal the contents. They can be cumbersome to deal with, so if you have kids and they manage to get their hands on it, don't worry. Unless they plan to use it as a bowling ball or hit it like a real question mark block, you should all be good.
The real takeaway from all of this is that this set is an absolute treat if you are a Lego fan or a Mario lover. Sure, the £ 159.99 / $ 169.99 price tag may catch your eye, but after having bought and built a lot of Lego over the years this is one of the best sets to have been released in a long time, and one that Designed by people who really understand the audience it is aimed at. With an extremely fun build, a fun end product to play with, and a wealth of secrets for fans to uncover, it is worth every penny and will definitely catch the attention of your friends and family when they drop by to play.


.